Al de hele week heb ik de tentopbouw gezien op het Museumplein, maar had niet in de gaten dat het voor het concert onder het motto van 'Extremisme pikken wij niet' was.
Dit allemaal naar aanleiding van de moord op Theo, branden in kerken, Islamitische instanties en oppakkingen van exteme lui in Den Haag. Toevallig was ik met Marc wat broodjes en heerlijke taart aan het eten bij Pasta Di Mama op de PC H, en hoorde fijne geluiden vanaf het Museumplein, dus wij eropaf.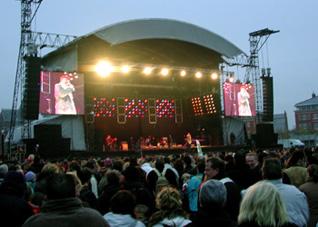 Het bleek Kresip, Frank Boeijen, Kane, Extreme e.a. te zijn, aanelkaar gelult door de spraakwatervallen Dolf Jansen en Howard Komproe. Allemaal erg prettig, fijn en opzwepend. Een mannetje (m/v) of 20k trotseerde de koude en stonden als één m/v achter het goede doel. Het plein stond in elk geval vol tot een uurtje of 18:00, toen ik wegging.