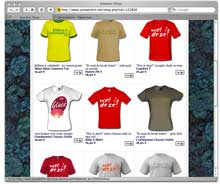 Op veler verzoek bestaat vanaf vanmiddag de sneaker t-shirt shop.
In de loop van de afgelopen paar maanden zijn wat tshirt designs langs gekomen. Afgelopen weekend heb ik besloten dat het tijd werd dat ze ook tekoop waren voor de enthousiastelingen.
Ik verwacht geen stormloop, maar het is toch leuk om eens een origineel shirt te kopen en niet de zoveelste 'swoosh' of aligator erop. Shirt verkrijgbaar op de shop zijn:
Als je nou nog een model of kleur-cobinatie mist, twijfel niet me even te mailen (zie shop).