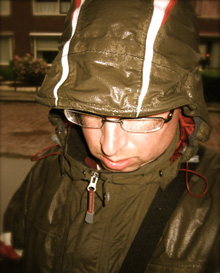 Soms he, soms ben je de weg kwijt. Alsof je midden in je leven erachter komt dat je meedoet aan een dropping in plaats van een puzzeltocht.
Je kent het gevoel wel: waarom nou en waarom nu!? De zon schijnt mooi, lammetjes in de weide en dan plots heeft het geen zin meer. Je wordt bruut onderuit geschoffelt door je lot. Die lammetjes sprongen te vroeg in de weide. Of misschien zag je het niet goed, of zag je ze omdat je ze verwachtte?
Plots is er twijfel over alles wat zeker leek te zijn. Alleen de saaie zekerheden blijven duidelijk aanwezig: sleur, leegte, regen. De mooie ster waar je een tijd omheen cirkelde, bleek niet te horen in jouw sterrenstelsel. Je zoekt de nieuwe zwaartekracht, je nieuwe balans.