Zucht, wanneer leren mensen het nou eens. "Klik hier niet, dan zullen we uw gegevens niet doorgeven aan de rest van de wereld", of iets dergelijks, dat is de slechtste, maar helaas ook de meest efficiente manier om gegevens te verkopen. Wat een faux pas.

Enfin, ik ga dus verhuizen, dus ik ga een verhuispakket aanvragen bij TNT, dat is immers de nieuwe oude postbode. Dus lekker invullen, alle gegevens op mijn schoenmaat na gaat erin (met foutmarge), ja stuur al mijn winkelvriendjes ook maar wat verhuisberichten. Enfin, dan kom je bij het eindscherm, je leest er zo overheen, maar het staat er ook bij TNT dus!!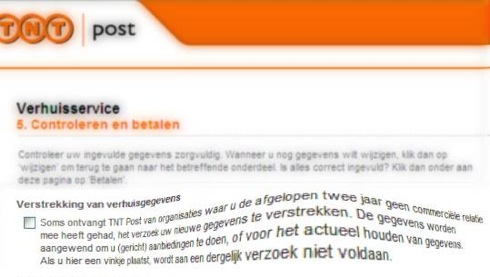 Soms ontvangt TNT Post van organisaties waar u de afgelopen twee jaar geen commerciële relatie mee heeft gehad, het verzoek uw nieuwe gegevens te verstrekken. De gegevens worden aangewend om u (gericht) aanbiedingen te doen, of voor het actueel houden van gegevens.
Als u hier een vinkje plaatst, wordt aan een dergelijk verzoek niet voldaan.
Gelukkig net op tijd gevonden, vinkje AAN dus… geen post van sukkels die gegevens kopen … of was het nou uit?