Onder het motto: tis nutteloos, maar ziet er wel cool uit en enigzins relevant, dus is het kunst.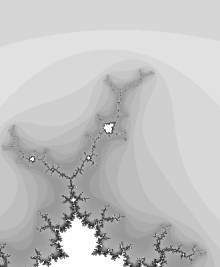 Vers uit de hersenpan. Zou het niet cool zijn om een film te maken van een groeiend softwareproject. De bestanden in zo'n project veranderen om de haverklap, van grootte maar ook van locatie. En natuurlijk komen er ook directories en bestanden bij.
De groei van zo'n project wordt min of meer 'opgenomen' door een versiebeheer systeem als CVS of Subversion. Het zou dus niet veel moeite moeten kosten om die opname in een grafiekje en dan over tijd in een filmpje om te zetten.
Wat is nou het nut? Sja, niet veel, maar wat het is nut van het 'time laps' filmpje waar je kan zien hoe de jaargetijden voorbij gaan. Het is estetisch leuk om te zien. Bovendien schept het een beeld van hoe zo'n applicatie als een soort organisme groeit.