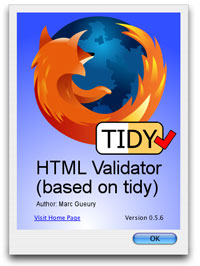 Al een tijdje maak ik mijn webisites zo netjes mogelijk (naar de W3C standaarden dus). Nu is er een extra extentie voor Firefox die daarbij een grote hulp is
Firefox is bij uitstek het perfecte gereedschap om mooie (qua code) website te maken. Firefox is de 'light' versie van de browser Mozilla genaamd, wat vroeger Netscape heette. Voor Firefox zijn er een aantal uitbreidingen die 'extentions' heten. Dit zijn programmatjes die de browser functionaliteit verbeteren en of uitbreiden.
Nu zijn er voor programmeurs ook heel fijne gereedschappen (extentions) die helpen bij het maken van goede (lees: volgens de standaarden) code. Dan nu links naar de twee extenties die ik gebruik:
HTML Validator with Tidy en Web Developer Extension. Allebei meer dan de moeite waard!